Brake for more Breaks…

VISIT OUR NEW CLASSROOM - 5H CLASS - 5 DAYS A WEEK
TAKE TRAINS A C B D - AND BUSES M3 - BX19 - M100 - M101
VISIT OUR NEW CLASSROOM - 5H CLASS - 5 DAYS A WEEK
TAKE TRAINS A C B D - AND BUSES M3 - BX19 - M100 - M101
717 SAINT NICHOLAS AVE BET.145TH &146TH
IN HARLEM TEL 212 510 7940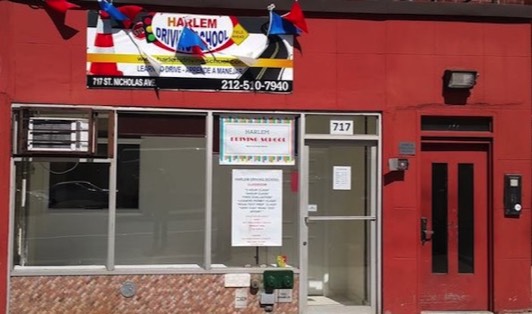 PRE-LICENSING COURSE 5 HOUR CLASS $40
MON @ 5 PM

WED @ 5 PM

SAT 2 classes 1@ 9 AM & 1@ 2 PM

1 - REGULAR ROAD TEST


Regular road tests in general have a waiting period of about four (4) to six (6) weeks from the day you schedule it to the day of the actual test.
If you buy one of our package-deals,we will schedule your regular road test appointment for free of charge.
If you are not our student, it will only cost you $15 to schedule one.

2 - RUSH ROAD TEST


This is a sooner appointment than the regular.You will be guaranteed a date between two (2) to twenty (20) days for a fee of $50.
If no appointment is available for you within the 20 days - which is very rare - you will get a full refund.

For additional terms and conditions contact us. At 212 510 7940.

Checklist for the day of your road test


The day of your road test, you must be on time.
• arrive up to 30 minutes before the time of your test
• if you are late, the license examiner may need to reschedule your road test
Here's what you need to bring the day of your road test


your photo learner permit

glasses or contacts, if your permit indicates you need corrective lenses


your original Pre-licensing Course Certificate (MV-278) or Driver Education Certificate (MV-285), copies are not acceptable


if you are under 18, a Certification of Supervised Driving (MV-262) completed by your parent or guardian - this must be given to the license examiner each time you take a road test


a driver age 21 or older who has a license valid to operate the test vehicle


a vehicle to drive during the test that has a valid registration and inspection, operates properly and is in clean condition
If you are taking a motorcycle road test you will also need


a properly operating, registered and inspected motorcycle


a properly operating, registered and inspected motor vehicle and a driver with a valid driver license to transport the license examiner during your road test

Forms:
Certification of Supervised Driving (MV-262) http://dmv.ny.gov/forms/mv262.pdf